How to build Your Brand with Tutorial Videos
More Aussies are watching videos than ever before – according to the Nielsen's Digital Content Ratings, 14.7 million Australians (about 60% of the population) spent an average of more than 19 hours on YouTube during the month of May 2017.
Even for the less tech-oriented demographic in the over-55 age range, 61% watched an average of more than 9 hours of video in one month. That's a lot of video time!
People are turning to online videos when they want to learn
Sure, a lot of people are watching cat videos, but I'd like to talk about an increasingly popular category: educational content.
Google says that 91% of smartphone users use their phone to look for help on the internet when they get stuck.
YouTube searches for 'how to' videos are growing at the rate of 70% per year, which makes them an excellent way to reach out to customers.
Video is a great way to position yourself with customers
Take a moment to think about how your customers use your products:
Who are your customers?
What are the ways they use your products?
When or what time of the day or week, season of the year – do they do it?
Where do they do it?
How do they do it?
Think about creating different videos for different customer demographics. For instance, a busy young mother probably uses your product differently from a retired person, and a college student would have different needs yet again.
The more personalized your content, the more your customer feels special, like you're talking to them directly.
If you're there for your customers when they need you, they'll be more likely to buy from you – 48% of smartphone users are more likely to buy from brands with educational videos on their mobile site.
Taking the time to communicate to your customers through video also humanizes your company and increases customer loyalty.
Make sure your customers can find your videos
Your customers are searching for help online, and you want to make it easy for them to find your website and your content. Here's a checklist of ways to do that.
Mobile-optimized is the way to go
Most Australians – 65% – watch videos on their smartphones or tablets, especially when they're on the move. Even if they're not away from home, if they're looking for inspirational dinner recipes they'll most likely be in the kitchen (for instance).
Your website should already be mobile-friendly, but if it isn't, consider this as another wakeup call to do so.
Pay attention to video SEO
Once you have your great, targeted video content, you need to make sure your customers can easily find it. I've written several articles on SEO that you might find helpful, but for now I'll ask you to keep these things in mind:
Your video title should be descriptive (ex: "How to use MyCompany Widget"), and include relevant keywords
Add good metadata – a short description of the content for search engine crawlers to index and tell users about
Tag your videos so they rank better – tags are words and short phrases that describe what category your videos fall under (ex: MyBrand, tutorial, how-to video).
Videos are some of the most popular content on the internet, and the number of people watching them is only growing. Given how easy it is to get started, you owe it to yourself and your business to add video to marketing toolkit.
If you have any questions or comments, please feel free to get in touch with me.
Need some help, or would like a short-term mentor in your business?
Get a FREE Copy of my No. 1 seller "Internet Secrets Made Easy," or book a FREE 20-minute session with me


"Discover what every Business Owner must know to create an online presence that works without the techie speak."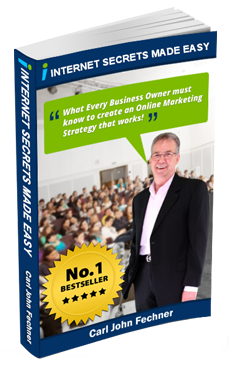 Get My No1 Best Seller
Enter your email address and click the button below to get your FREE copy now!
BOOK NOW