How to build customer loyalty
In our rapidly-changing modern world, businesses look to an old-fashioned value to drive their marketing strategy:
Loyalty.
Your loyal customers are not only important for their business, but for the business they bring you. Customers can be some of your best advocates, or, if you've disappointed them, your worst enemies.
Customers are plugged into a large online network
Surveys show that the average American interacts with 634 people online. I know I'd rather have those people hear about how good I am, rather than my failures. It's much better to take care of the customers you have than try to get new ones.
You'll spend 500% more trying to gain a new customer, for one thing. If you keep just 5% more of your old customers you can expect a 25% to 125% increase in profits.
Loyal customers spend money
You might think, that with all the options out there, customers spend most of their time chasing the lowest prices. That's probably true for some, but over the lifetime of a loyal customer you can expect that they will spend 10 times as much as their first purchase. In fact, the best working definition of a loyal customer is probably 'one who buys your products even when they aren't on sale'.
Loyal customers do some of your best marketing
In surveys, 84% of brand advocates said that they had answered questions that people wouldn't think of asking a sales associate. Potential customers are more likely to trust another customer – someone like themselves – over a sales person.
Their opinion is seen as unbiased and more relevant to their concerns than a sales rep (who, let's face it, is mostly concerned with getting the sale). If you ask your brand advocates, 93% of them would say that they are better at selling your brand than you are!
What drives brand loyalty?
What makes people buy a brand when they could get it cheaper somewhere else? It might seem counterintuitive, but it really has to do with basic human nature.
Customers are loyal to brands that share their values
According to a Harvard Business Review study, 64% of the 7,000 consumers surveyed said they had strong brand loyalties to companies that shared their values. People like to feel that they're part of something greater, that they're doing some good in the world. When your values align with theirs you can earn their loyalty without having to spend a dime.
Of course, you must walk your talk. You can't hide anything for long in this age of instant information-sharing.
So, make your values clear; be proud of them. Share them on blog posts and social media, and keep people informed of the ways that you are expressing them out in the world.
Good customer service can turn angry customers into loyal customers
Everyone makes mistakes. Nobody is perfect, and, believe it or not, customers understand that.
But, customers won't hang around for bad service – 79% said they would take their business elsewhere within a week – but if you follow up and fix the problem, you can turn that bad first impression around.
You build trust because customers know that when they have an issue (which is pretty much inevitable over time), you will be responsive to their needs.
When asked, 30.9% of customers said that they'd be loyal to a company that followed up on negative feedback; 18.7% said they would recommend that company.
Responsive customer service is the key
You have to be on the ball when dealing with customers. The competition can be cut-throat, so put your best foot forward. Here are some metrics for what customers expect from you.
Fast replies
Customers don't have time to wait around – if you're not available it's easy to find someone who is.
50% expect a phone call to be answered in 5 minutes.
35% expect an email to be answered in 24 hours.
- 15% expect an email response in 2 hours.
Most customers expect a response on social media within 1 hour.
- 18% can wait 24 hours though.
19% expect an instant messaging reply within one minute.
Flexible and responsive
Be available through different platforms: email, social media, IMS, etc.
Be open to feedback.
Provide your service reps with full information so customers don't have to repeat themselves.
Make important information available before customers ask for it.
Customer rewards keep them coming back
To maximize the effect of your rewards, don't give them on a set schedule. Customer loyalty cards and punch cards can be great, but an unexpected reward gives a much bigger thrill.
The surprise really pushes people's happy buttons and keeps them coming back for more. It's even better if you can tailor your rewards to a customer's interest, for instance if you have a new product they might be particularly interested in, then sending out a sample would be a delightful surprise sure to make them think well of you.
Make a good beginning and a strong ending
The most important parts of any interaction are the first and last few minutes. First impressions count, and last impressions stick in the mind. It's a good idea to train your customer-facing personnel to make a little extra effort at the beginning and end of a customer interaction.
Create a strong and recognizable social identity
Your business can be more than just a profit-generating entity. It can also be a social engine. Your customers already have something in common with each other, so give them somewhere to talk, get to know each other, and form a community.
Set up a forum on your website, organize group events, get people involved in your values and interests, and you'll create an emotional investment in your brand far beyond the products you sell.
Give people a chance to share the wealth
One way to make people feel good about purchasing your product is to give them a chance to make someone else feel good too. For instance, TOMS shoes give a needy person one pair of shoes for every shoe purchased.
Allowing customers to nominate someone to share rewards with is also a great way to spread those good feelings around.
Loyal customers are some of the most valuable assets a business can have. In order to get and keep them, you don't only need good business sense, you need good people sense, too.
Need some help, or would like a short-term mentor in your business?
Get a FREE Copy of my No. 1 seller "Internet Secrets Made Easy," or book a FREE 20-minute session with me


"Discover what every Business Owner must know to create an online presence that works without the techie speak."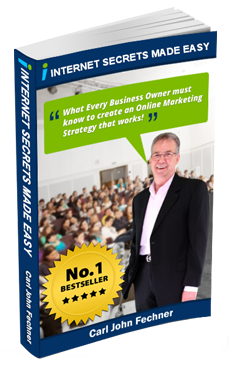 Get My No1 Best Seller
Enter your email address and click the button below to get your FREE copy now!
BOOK NOW