Build customer trust with reviews
More and more people every year use the internet to search for local businesses. The results of Brightlocal's 2016 Customer Review Survey showed that 53% of those surveyed (up from 43% in 2015), had used the internet to find a local business within the past month.
Only 5% of consumers were holdouts who didn't use the internet to satisfy their local business needs (down from 9% in 2015). If we take a line through these results, in a couple of years the internet will be everyone's first choice when it comes to selecting what local businesses to patronize.
Make your business stand out
How do you get customers to click on the link for your business instead of your competition?
According to the research, 56% of people surveyed chose businesses based on positive ratings and reviews in Google Local Pack.
(Google Local Pack is the box at the top of the search results that displays three local businesses that match the customer's query.) And, of course, the higher your rating the more clicks you get.
Social proof draws customers
People look to other people to form their opinion of a business. In the pre-internet era, we'd talk to friends or family, nowadays 84% of us trust online review's as much as a personal recommendation.
Reviews also help your search rankings, now that Google is getting better and better at picking out fake reviews. Customers can usually spot them too. Good reviews are important, but real reviews are crucial. Even bad reviews are OK if you respond to them tactfully and fix the problem.
The benefit of testimonials
Even beyond your star rating and reviews, testimonials add to the value of your product or service and enhance your credibility with customers. If it's a testimonial from a celebrity, so much the better. However, fame isn't everything.
Customers are more likely to trust other people who are similar to them, partly out of a sense of fellow-feeling and partly because they'll have similar needs. For instance, someone with a large family will be in the market for a very different type of car than a single person.
Testimonials and reviews give more information
Your website should give a clear and complete information about your product, which is good and necessary. Unfortunately, it's not enough for today's jaded consumer.
"I'll believe it when I see it!
They'll believe it when they see it, or failing that, when someone else sees it and tells them about it. Seven out of ten customers will leave a review if asked, and you want a constant influx of new reviews – 73% of consumers said they disregard reviews more than three months old.
What makes a good Review
A good review is personalised and specific. Of course, a 5-star rating is much better than nothing (or a low rating), but to be the most helpful to other customers, a review or testimonial should touch on the following points.
What the reviewer liked about the product
What the product does and how it works
The problem that the product solved for the reviewer
How easy or difficult the buying process was
Delivery
How problems were resolved, if any
Why the reviewer chose your product over a similar one – was it:

Price
Convenience
Ease of use
Quality
Something else?
A picture of the person giving the review is also a great idea. In general, the review should get across the idea that a real person used your product to solve real problems in their life.
Where to put testimonials and reviews on your site
It's a mistake to confine them to one page, given how well they work to increase conversion rates, whether it's sales, page likes, or newsletter signups.
So think about where the customer is on the road to a sale, and use testimonials like signs to point the way. When you make a call to action, it's a great idea to have testimonials there to show customers that other people have come this way before and had great results.
Putting testimonials on your landing page will draw people in and make them interested in learning more.
I hope I've convinced you to add reviews and testimonials to your site.
Not only do they improve your credibility with customers and search rankings, they add human interest to your site. Humans are social animals, and we'll always be interested in what other humans are up to. And that interest can be the first step in turning a browser into a customer.
Need some help, or would like a short-term mentor in your business?
Get a FREE Copy of my No. 1 seller "Internet Secrets Made Easy," or book a FREE 20-minute session with me


"Discover what every Business Owner must know to create an online presence that works without the techie speak."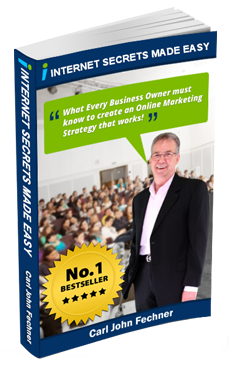 Get My No1 Best Seller
Enter your email address and click the button below to get your FREE copy now!
BOOK NOW