10 reasons why you should publish content on LinkedIn
When they hear the words 'social media' most people think of Facebook or Twitter, but LinkedIn is a great resource for reaching high-tier professionals. According this 2012 Adweek survey, 49% of LinkedIn members have an annual household income of over $100,000. It can be one of the best websites for B2B lead generation, since you're often interacting directly with decision-makers in the companies to which you're reaching out.
Why publish articles on LinkedIn?
You want to bring attention to your product or service, but obvious self-promotion is not the way to go. Business leaders are accustomed to people who want something from them, and anything resembling a hard sell is a sure turn-off. You want to position yourself as an authority in your field, so that your name will come up in member's minds when they need help in your niche. Publishing articles on LinkedIn is a great way to do this, for a number of reasons:
Your articles will come up whenever someone views your profile
Whenever someone – a potential customer or employer – searches for you over the internet, your LinkedIn profile is one of the first results to come up. If you publish over the site, you can showcase your wit, wisdom, and expertise.
The more you post the better your search results
The more often you post and the more material you have on your profile the higher you'll rank for your profession or keywords, on both LinkedIn and Google searches.
Your material doesn't have to be long or complicated
Sure, 500-word articles are great, but not every post needs to be long. Quick tips and hints also make good content. You remind people of your name without seeming pushy or taking up too much of their time.
You can link to old blog posts and give them more exposure
You don't need to write an original article just for LinkedIn – as long as it's still relevant you can publish it. You can add a quick introduction, such as: "This trending news story reminded me of a blog post I wrote," maybe do some editing to tailor it to your LinkedIn audience, and post it.
Your whole network will be notified
Every time you publish something, all the people in your network will receive a note on their news feed. As long as your content is good, you'll build credibility and brand recognition.
You can reach people beyond your immediate network
When people like, comment, and share your article it gains traction beyond your inner circle. More people will hear about your brand and what you have to say. Even if your content is a little controversial (just make sure it's not offensive), it will get people talking about you, and that's not a bad thing.
You might benefit from LinkedIn's promotion
If you have a fantastic piece of content LinkedIn might choose to publish it in one of the Pulse categories, or even on the front page. You'll be able to reach out to an entirely new audience and have the chance to gain new followers and fans.
See who's reading your articles
LinkedIn publisher analytics lets you see exactly who your audience is. You can view the breakdown of your reader demographics: the industries they work in, their job titles, and their locations. You can also see where the traffic is coming from. Is it mostly from Google? LinkedIn? Now you'll know, so you know what parts of your marketing are currently successful and what parts need more work.
You can build connections and community
In addition to publishing your own content, you can like and share other articles that you find interesting or useful. The author of the piece will be able to see your share and comments, reminding them of your good taste and insight.
You can fine-tune your content for the best results
Since you can easily see how your articles are doing on LinkedIn, you'll know what's being read and shared among your target audience. You'll have a better idea of their needs and interests, so you can be in a position to meet them, and increase your business.
Publishing content on LinkedIn is a good way to build contacts in the professional business community. Your content might not reach the masses in the same way as Facebook or Twitter, but you have more potential to reach the people who make the real decisions in your marketplace.
Need some help, or would like a short-term mentor in your business?
Get a FREE Copy of my No. 1 seller "Internet Marketing Made Easy," or book a FREE 20-minute session with me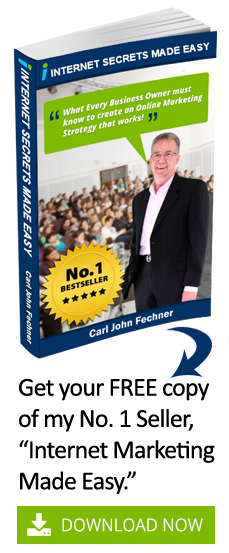 BOOK NOW