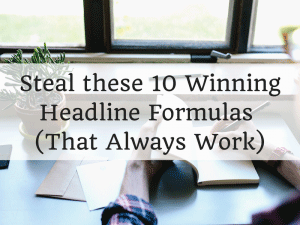 Did the title of this blog post grab your attention? I'd bet good money that it did, and that it made you click to read more wherever you came from (whether you saw it on Facebook, Google search, or have been browsing blogs). Today, I'll share 10 headline formulas that truly works. Thanks to Brian Clark for sharing these awesome formulas.
So, you're seeing too many of those "how to" and list headlines, and want to try a few different angles?
Let's move beyond those common headline formulas you see over and over, and add some new blood to your attention-grabbing arsenal.
1. Who Else Wants

[blank]?

Starting a headline with "Who Else Wants…" is a classic social proof strategy that implies an already existing consensus desire. While overused in the Internet marketing arena, it still works like gangbusters for other subject matter.

Who Else Wants a Great WordPress Theme?
Who Else Wants a Higher Paying Job?
Who Else Wants More Fun and Less Stress When on Vacation?

2. The Secret of [blank]

This one is used quite a bit, but that's because it works. Share insider knowledge and translate it into a benefit for the reader.

The Secret of Successful Podcasting
The Secret of Protecting Your Assets in Litigation
The Secret of Getting Your Home Loan Approved

3. Here is a Method That is Helping [blank] to [blank]

Simply identify your target audience and the benefit you can provide them, and fill in the blanks.

Here is a Method That is Helping Homeowners Save Hundreds on Insurance
Here is a Method That is Helping Children Learn to Read Sooner
Here is a Method That is Helping Bloggers Write Better Post Titles

4. Little Known Ways to [blank]

A more intriguing (and less common) way of accomplishing the same thing as "The Secret of…" headline.

Little Known Ways to Save on Your Heating Bill
Little Known Ways to Hack Google's Gmail
Little Known Ways to Lose Weight Quickly and Safely

5. Get Rid of [problem] Once and For All

A classic formula that identifies either a painful problem or an unfulfilled desire that the reader wants to remedy.

Get Rid of Your Unproductive Work Habits Once and For All
Get Rid of That Carpet Stain Once and For All
Get Rid of That Lame Mullet Hairdo Once and For All

6. Here's a Quick Way to [solve a problem]

People love quick and easy when it comes to solving a nagging problem.

Here's a Quick Way to Get Over a Cold
Here's a Quick Way to Potty Train Junior
Here's a Quick Way to Backup Your Hard Drive

7. Now You Can Have [something desirable] [great circumstance]

The is the classic "have your cake and eat it too" headline — and who doesn't like that?

Now You Can Quit Your Job and Make Even More Money
Now You Can Meet Sexy Singles Online Without Spending a Dime
Now You Can Own a Cool Mac and Still Run Windows

8. [Do something] like [world-class example]

Gatorade milked this one fully with the "Be Like Mike" campaign featuring Michael Jordan in the early 1990s.

Speak Spanish Like a Diplomat
Party Like Paris Hilton
Blog Like an A-Lister

9. Have a [or] Build a [blank] You Can Be Proud Of

Appeal to vanity, dissatisfaction, or shame. Enough said.

Build a Body You Can Be Proud Of
Have a Smile You Can Be Proud Of
Build a Blog Network You Can Be Proud Of

10. What Everybody Ought to Know About [blank]

Big curiosity draw with this type of headline, and it acts almost as a challenge to the reader to go ahead and see if they are missing something.

What Everybody Ought to Know About ASP
What Everybody Ought to Know About Adjustable Rate Mortgages
What Everybody Ought to Know About Writing Great Headlines

Can't get enough of these headline formulas? Tomorrow I'll share more more headline formulas that will make people go crazy to read it. Stay tuned.

This content is syndicated news that can be used for your research, and we hope that it can help your productivity. This content is for educational purposes and is not made for any kind of commercial purposes of this blog.

Leave Your Comments Below: