Australian business owners are not ready to take advantage of expansive opportunities in mobile sales, according to PayPal's recently released mCommerce report. The online payment giant says that the vast majority of Australian consumers (71%) have used their mobile device to make a payment in the last 6 months.
However, most Australian businesses are not poised to serve this growing market.
The figures show that only 49% of Australian businesses are optimised for mobile commerce – 37% don't have a website that's set up for easy mobile sales; 31% have no plans to do so. And 8% don't even know their business readiness to take on mobile traffic.
Mobile and Social Commerce Popular with Consumers
Consumers love how convenient and time-saving mobile payments are, with many (39%) also stating that they find mobile payment apps easy to use. Many prefer to use their phone even when a desktop or laptop computer is available – 82% said that they engage in mobile commerce when relaxing at home or watching TV.
Some people are in the habit now of having two or more electronic screens going at a time. They may watch TV while browsing Facebook or Pinterest, or checking Twitter. They spend money while doing this, too − 11% of those surveyed said they had made a purchase on a social media platform and 18% had bought something they'd seen on social media.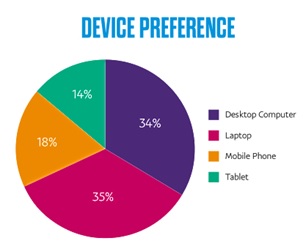 A good proportion (31%) of consumers would rather make a payment using their mobile phone or tablet than a computer or laptop.
Mobile commerce in general is very popular with consumers, with 56% making a mobile payment at least once a month. The average amount spent is $330 per month, with 33% of consumers spending $500 or more. It's possible these amounts would be even higher if mobile commerce options were available from more Austalian businesses.
Paying bills was the most popular application for mobile payments, with buying tickets coming in second. Customers made a variety of purchases through their devices, ranging from clothing and accessories (43%), to travel and accommodations (38%) and food and drink (37 %). Some consumers (16%) even bought groceries while on the go.
Consumers did have security concerns, with 59% saying they did not want their financial information linked to their social media accounts. Over half (52%) don't want to be bothered filling in long forms on their phone. However, 44% still find it annoying when payment sites don't work via mobile.
Australian Businesses Behind the Curve on Mobile Sales
In spite of these intriguing consumer trends, 20% of Australian businesses surveyed don't have any figures for their mobile commerce sales at all. The rate of mCommerce sales are low, with only 25% of businesses surveyed transacting an appreciable percentage (10% or more) of their monthly sales via mobile.
A staggering 89% of business owners surveyed said that they have no plans to accept payments via social media over the next 6 months; 25% didn't understand how social commerce works, and 34% said their business had no social media presence at all.
From this report, it is obvious that the fields of mobile and social media commerce in Australia are wide open spaces full of opportunities for businesses that step up and give the consumers what they want. Your business can easily stand out from the others when you make mobile purchases available to your customers.
About the Report
The PayPal mCommerce Index Inaugural Report: PayPal Australia In-Depth Report September 20, 2016 was conducted by Roy Morgan Research Ltd for PayPal Australia. It was an online self-completion survey of 996 consumers and 106 businesses. It is a general survey of recent mobile commerce trends.
Original source: https://www.paypal.com/au/webapps/mpp/mcommerce-index